Need inspiration to figure out the perfect accessory? Let Leeloulou and her team help you out! Contact us for more details! We love to help!
Guccio Gucci the Great: Five Facts About Fashion's Finest
0 comments / Posted by Paige McKirahan
Guccio Gucci the Great: Five Facts About Fashion's Finest
By Paige McKirahan 
As a plethora of designer birthdays are on the horizon this spring, we wanted to remember one of our favorites that were born on March 26th; Guccio Gucci, the infamous creative mind behind the House of Gucci was born in 1881 in Florence, Italy to a family with a history in leather craftsmanship. Though Guccio passed away over 50 years ago in 1953, his eponymous namesake brand lives on and continues to dominate the luxury market. Prior to his death, he remained at the head of the brand and molded Gucci into the haute couture powerhouse that it is today. Read on to find out some fast facts about this fashion favorite and brush up on your industry trivia!
In 1921, Gucci opened his first shop in Florence, Italy
Guccio and his son Rodolfo in front of an early Gucci store, 1938 (source) 
This first leather-focused boutique laid the foundation for the House of Gucci as its quality goods allowed Guccio to build a reputation around his dedication to detail. He was known to employ only the best craftsmen from his neighborhood, and he created small leather accessories that quickly garnered him local fame.
In 1932, he created the "it" loafer.
After word began to spread about his brand, many people were traveling all over the world to purchase his designs in Florence. During this time, he created the loafer shoe with a gilded snaffle; this was the first of its kind and became such a staple in everyday footwear to this day is still the only shoe on display in New York's Museum of Modern Art.
Guccio and his wife, Aida, had a large family.
The Gucci Family (source)
Lucky for the Gucci's, they easily could keep the company in the family as their six children- four sons and two daughters- were the perfect successors. Following Guccio's death, his four sons, Aldo, Ugo, Vasco, and Rodolf, dramatically took over operations at the fashion house.
Guccio introduced the iconic bamboo handled bag in 1947.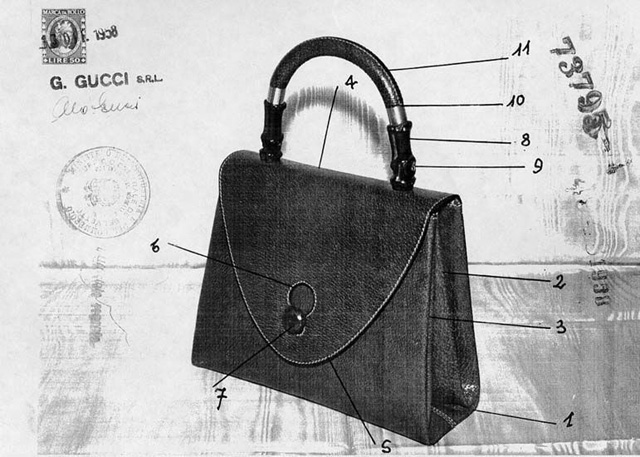 Gucci bamboo patent form (source)
As the brand's first iconic bag, this accessory made huge waves in the industry as it was a previously unseen style. This design has been a mainstay at the company since its conception and is a popular choice by modern fashionistas all over the world.
Guccio's brand is owned by Kering.
The Gucci brand is now owned by a parent company with an affinity for luxury fashion. In addition to Gucci, Kering also owns Bottega Veneta, Yves Saint Laurent, Sergio Rossi, Stella McCartney and Alexander McQueen! Who would not love to be a part of this exclusive club?
We hope that these fast fashion facts gave you a new look into the life of Guccio Gucci and that you learned something new with us at TalkingFashion today! For a timeline of Guccio's life, click here!
Sources:
"10 Facts About Guccio Gucci -- Know Your Fashion Designers." College Fashion, 25 Feb. 2019, www.collegefashion.net/news/know-your-fashion-designers-10-facts-about-guccio-gucci/.
Pmc. "Gucci: A History Lesson." WWD, WWD, 23 Feb. 2011, wwd.com/fashion-news/designer-luxury/history-lesson-3512770/.
"Who Was Guccio Gucci? Everything You Need to Know." – Facts, Childhood, Family Life of Italian Fashion Designer & Entrepreneur, www.thefamouspeople.com/profiles/guccio-gucci-18526.php.
1930s, 1940s, 1950s, 1960s, 614 fashion business, accessories, accessories blogger, creative director priscila teixeira, fashion, fashion and culture blog, fashion and history, fashion art, fashion blog, fashion blogger, fashion history, fashion history blog, fashion intern, fashion jewelry lovers, gucci, talkingfashion, talkingfashion blog, talkingfashionnet, talkingfashionnet best online shop, talkingfashionnet blog, vintage, vintage accessories, vintage accessories blog, vintage history, vintage jewelry and accessories, written by paige mckirahan
Comments