The Marvellous Life of Marc Jacobs
The Marvellous Life of Marc Jacobs
By Paige McKirahan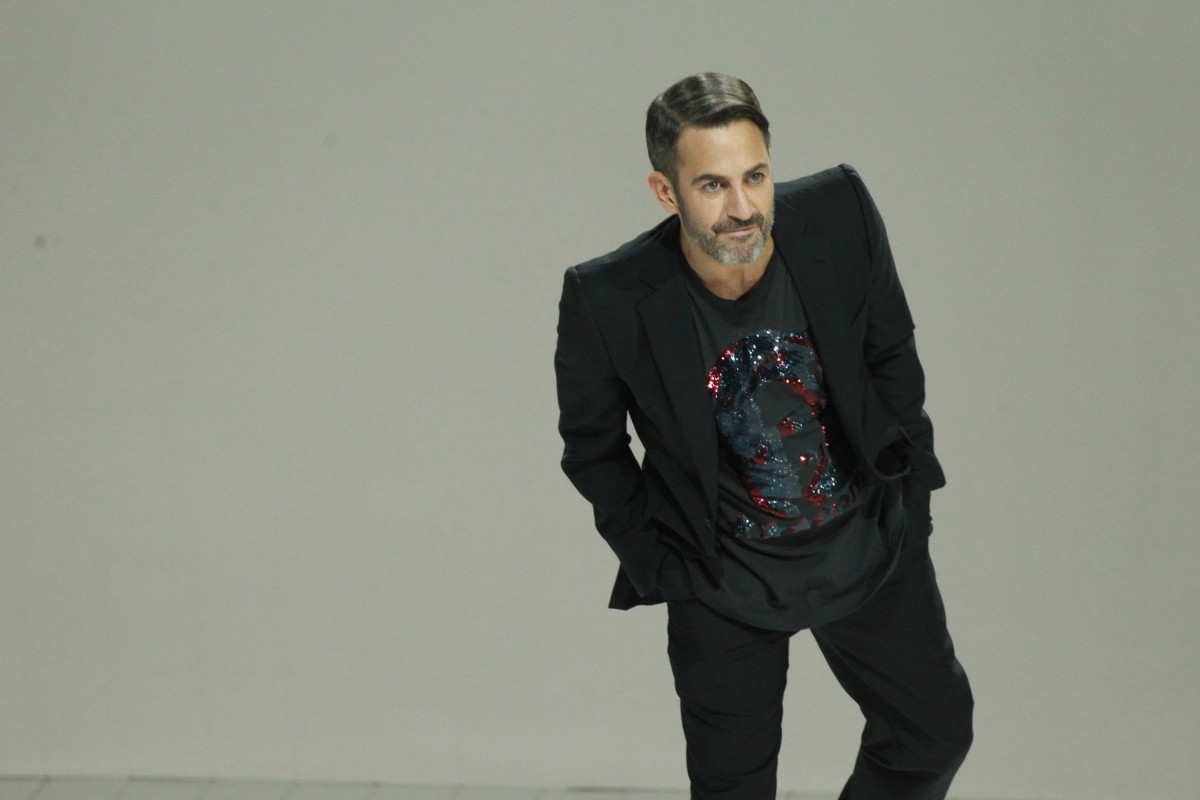 (source)
As we look to all of the fashionable spring birthdays coming up this season, we would be remiss to not celebrate the life of one of the fashions "boy wonders"; Marc Jacobs, born on April 6th, 1963, is an American fashion designer that took the industry by storm when he launched his namesake label in 1993. Prior to the launch of this emblematic brand, though, he was a fashion prodigy that did nothing less than stun his seasoned counterparts. Born in New York, Jacobs was raised with two siblings until the death of his father at the age of 7. His father's passing turned his world upside down and he eventually moved in with his grandmother on the Upper West Side in the wake of his mother's tumultuous new love life; it was here where he learned how to knit and his interest in fashion was encouraged to grow.
At the tender age of 15, Jacobs began attending the High School of Art and Design and working at the sophisticated boutique Charivari. Here, he met the fashion designer Perry Ellis; Ellis became his mentor and facilitated the beginning of Jacob's fashion career. Following his graduation at the School of Art and Design, he enrolled in the prestigious Parsons School of Design as a standout student. He received the both Perry Ellis Gold Thimble Award and Design Student of the Year at graduation in 1984, and this success led him to design his first collection for Sketchbook for Reuben Thomas at just 21.
Jacobs on the runway for Sketchbook (source)
At that time, he was also collaborating with executive Robert Duffy to create Jacobs Duffy Designs Inc.; this gave him enough financial backing to begin his own label, which earned him accolades as the youngest designer to win the Council of Fashion Designers of America Perry Ellis Award for New Fashion Talent (1987). In the following year, he was named the vice president of women's design at Perry Ellis, where his emblematic grunge collection started the edgy movement that essentially took over the '90s. This grunge collection prefaced Perry Ellis's manufacturing shutdown in 1993, leading Jacob's to relaunch his signature brand, Marc Jacobs International Company L.P. After seeing immediate success, he began opening boutiques in 1997 and became the creative director for Louis Vuitton in exchange for financial security surrounding his fashion house.
Marc Jacobs for Perry Ellis (source)
Despite the fact that Jacobs found great professional success with LV, his personal life slowly began to falter. He was at the helm of his addiction when the queens of fashion, Anna Wintour and Naomi Campbell, convinced Jacobs to seek help with the aid of other close friends in 1999. After finally getting clean, Jacobs returned to the industry stronger than ever when he launched Louis Vuitton's first ever ready-to-wear line. He continued building his company into an industry giant, expanding his products into menswear, womenswear, children wear, accessories, fragrances, and beauty. At the turn of the century, Jacobs was one of the biggest names in fashion; in 2002, he was named Menswear Designer of the Year, and Accessories Designer of the Year in 1998/99, 2003 and 2005.
As the 2000s have continued, Jacobs has never failed to turn heads. Despite the fact that he stepped down from LV in 2013 and the closing of Marc by Marc Jacobs in 2015, he still remains at the helm of high fashion. His luxury label lives on, and so does his legacy!
Sources:
Nolen, J. L. (2018, July 06). Marc Jacobs. Retrieved from https://www.britannica.com/biography/Marc-Jacobs
Marc Jacobs. (2017, September 07). Retrieved from https://www.biography.com/people/marc-jacobs-594096
Sample Block Quote
Praesent vestibulum congue tellus at fringilla. Curabitur vitae semper sem, eu convallis est. Cras felis nunc commodo eu convallis vitae interdum non nisl. Maecenas ac est sit amet augue pharetra convallis.
Sample Paragraph Text
Praesent vestibulum congue tellus at fringilla. Curabitur vitae semper sem, eu convallis est. Cras felis nunc commodo eu convallis vitae interdum non nisl. Maecenas ac est sit amet augue pharetra convallis nec danos dui. Cras suscipit quam et turpis eleifend vitae malesuada magna congue. Damus id ullamcorper neque. Sed vitae mi a mi pretium aliquet ac sed elitos. Pellentesque nulla eros accumsan quis justo at tincidunt lobortis deli denimes, suspendisse vestibulum lectus in lectus volutpate.