Home
/
talkingfashion
/
Gift Giving 101: The History of the Custom and How to Be a Good Guest
Need inspiration to figure out the perfect accessory? Let Leeloulou and her team help you out! Contact us for more details! We love to help!
Gift Giving 101: The History of the Custom and How to Be a Good Guest
0 comments / Posted by Paige McKirahan
Gift Giving 101: The History of the Custom and How to Be a Good Guest
By Paige McKirahan
'Tis the season for giving; whether you are the giver or the receiver, there is no denying that this custom is synonymous with the Christmas season. It is hard not to wonder, though, where and when this tradition began. As most traditions and customs do, this one originates in ancient Rome and is a relic of the winter solstice in December. This was celebrated in Rome with gift-giving and continued on as Christianity became more widespread. The date of Christmas was decided sometime in 330 AD and was claimed to be associated with the birth of Jesus; after this milestone, the custom was associated with the story of the Magi presenting gifts to baby Jesus. Along with that, some legends also base this idea of gift giving on Saint Nicholas, a fourth century Greek Bishop more affectionately known as Santa Claus. Presently, it is estimated that there is over $5 billion spent each day during the shopping season alone as the holiday has become somewhat commercialized.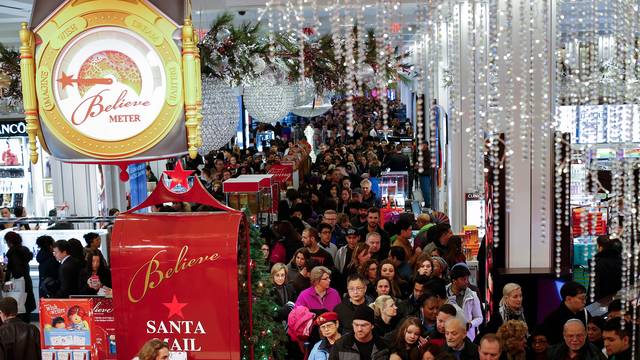 (photo credits to clickorlando.com)
We feel that gift giving can still be personal, and love the idea of hostess gifts. This branch on the gift giving tree is a huge part of etiquette and they are appropriate for casual dinner parties, formal dinner parties, holiday events, weekend visits and housewarming events. These gifts typically are something for the home or in the instance that the event involves a meal, they tend to lean towards wine or desserts. In some countries, this is gift is obligatory and considered a second nature when visiting someone's home.
If you're heading to a holiday party over the next month and are scrambling for that perfect gift for your favorite hostess, TalkingFashion has you covered! From salt and pepper shakers to vintage table lighters, we have something for everyone! Head over to our décor collections and you're sure to be the talk of the party when you walk in with one of our little white boxes!
614 art, 614 consignment shop, 614 fashion business, 614 jewelry consignment, 614 local business, accessories, accessories and jewelry blog, accessories blogger, accessories lover, accessories trends, blog, bold accessories, bold fun jewelry, collector, consigning, consignment shop in columbus, contemporary, contemporary accessories, contemporary fashion, decor, fashion, fashion and culture blog, fashion and fur, fashion and history, fashion and politics, fashion art, fashion blog, fashion blogger, fashion design, fashion history, fashion history blog, fashion industry internship, fashion intern, fashion intern stylist, fashion internship, fashion jewelry lovers, fashion student intern, fashion stylist intern, figural jewelry and accessories, history, hostess gifts, PR interns opportunities, PR internship opportunities, priscila teixeira, talkingfashion, talkingfashion blog, talkingfashionnet, talkingfashionnet best online shop, talkingfashionnet blog, vintage, vintage accessories, vintage accessories blog, vintage accessories online shopping, written by paige mckirahan
Comments