London Fashion Week F/W 19 Accessory Trend Spotlight
London Fashion Week F/W 19 Accessory Trend Spotlight
By Paige McKirahan 
Now that we are on the second week of fashion's favorite month, we are truly beginning to see this year's cold weather trends take form on runways all around the globe. Since February 15th, we have been watching one of the most eclectic and high-profile fashion week's take place in London; this capital's collections have just as enthralling as those seen in New York, with bold colors schemes and larger than life accessories taking center stage. As the location for Karl Lagerfeld's final show for Fendi, it was only customary that London brought the heat despite the cold, dreary weather. From controversy's surrounding Burberry's accessories to political statements made by Vivienne Westwood, there is a lot to discuss from this avant-garde week in the Big Smoke.
Vivienne Westwood's show (source)
Taking cues from New York, collections in London spared no expense when it came to headgear designs. From cowhide berets by House of Holland to oversized earmuffs by Ryan Lo, it is evident that fall 2019 will bring looks that stun from the top of your head to the tips of your toes. Barrets and hairpins covered in pearls or gems wowed in Ashish's collection when paired with their galactic makeup aesthetics and heightening hairstyles. Ear wraps made an eye-catching runway appearance when Ashley Williams paired her collection's colorful tights with a headwrap that featured motifs that you will have to see to believe (look below!!). We also saw function paired with fashion in Matty Boven's headpieces, with his over-the-top, Yorkshire inspired earmuffs being the perfect avant-garde accessory for braving the bitter UK cold. Quite possibly the tamest and utilitarian piece of the bunch was created by Molly Goddard; moving away from the traditional earmuff's and toboggans, she created a knit headscarf that protects you AND your hair from the less-than-desirable winter weather.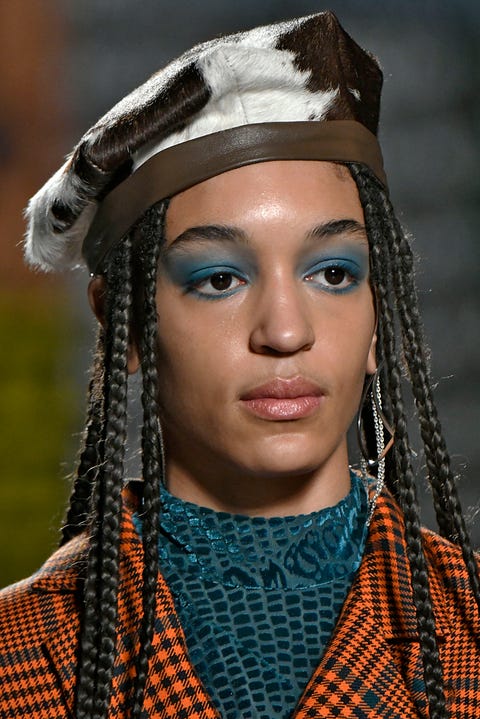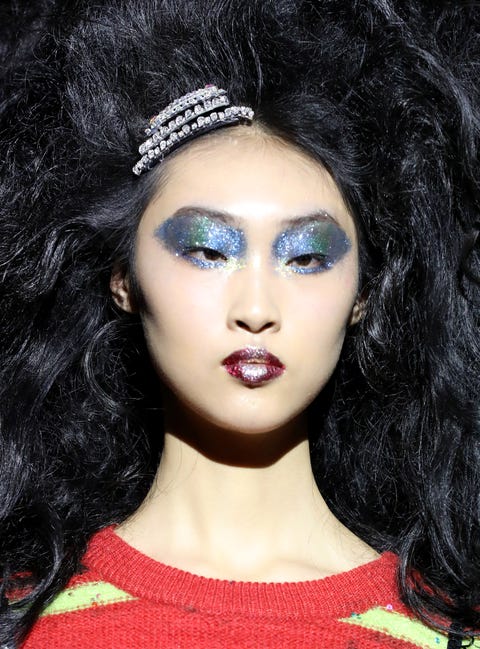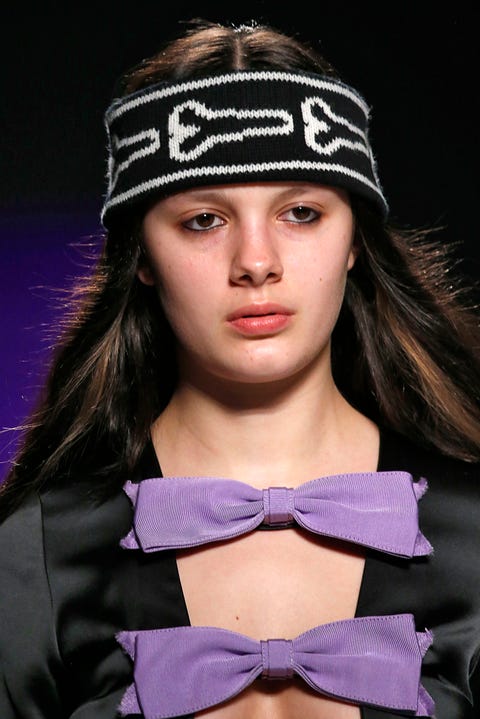 From top: House of Holland, Ashish, and Ashley Williams (source)
London collections took cues from your grandmother's closet when they incorporated brooches into looks with aesthetics ranging from abstract to western. Burberry took a step in a positive direction when creative director Ricardo Tisci accessorized his autumnal collection with sculptural pins that emulated shapes found on the beach. Toga's take on the brooch was a little less flirtatious as their bull horn pins made us feel like we were out of London and into Houston.
From top: Burberry, Toga (source)
Oversized, stackable jewelry prevailed in London just as it did in New York; from chunky gold neckwear by J.W. Anderson to bedazzled chokers spanning from collarbone to chin by Halpern, collections across the pond made a simple statement: dainty is out and chunky is in. We also saw a variety of details incorporated into jewelry designs, like the delicate pins featured in necklaces by Molly Goddard and feathers trailing on the ends of dangling earrings by Roksanda and Ports 1961.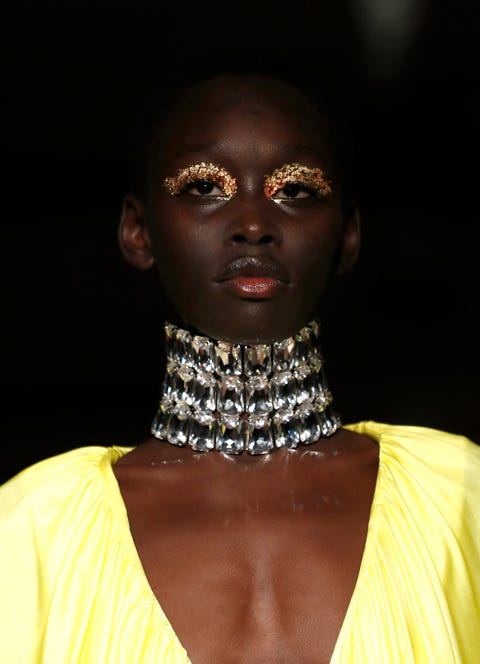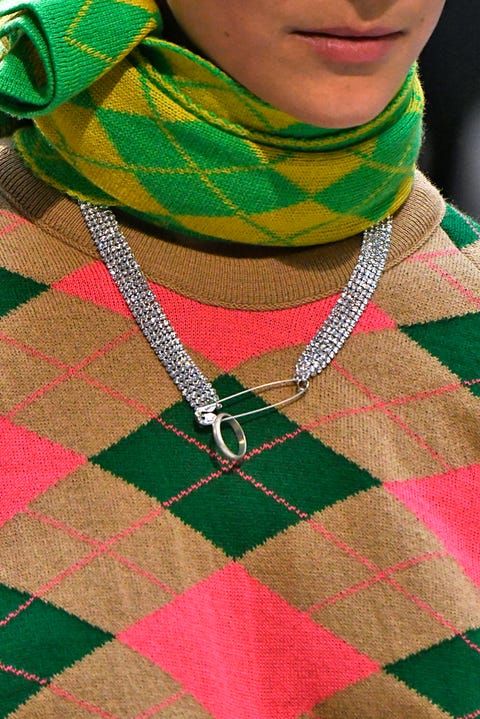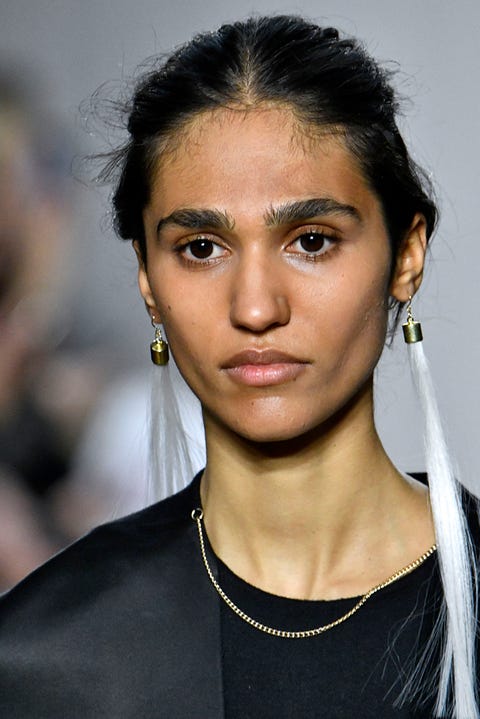 From top: Halpern, Molly Goddard, and Ports 1961 (source)
Unlike New York, London boasted collections full of statement belts that were big, boisterous, and waist-cinching in style. This fun-but-functional accessory stole the show in Alexa Chung's collection with her thick, animal print belts complimenting her denim pieces to perfection. Toga's belts turned up the heat and the zoom when their larger-than-life belts were the centerpieces of their collection; this oversized piece with double buckles paired well with their thick gloves and layered fabric silhouettes.
From top: Alexa Chung, Toga (source)
Last but definitely not least, this season's Fashion Weeks are showing us that the idea of the "it" bag is slowly changing into a new concept entirely. Jolin Wu is a pioneer of this movement with their luxe drawstring bags that emulate ones you would see in a school locker room. Covered in fur and clutched to the chest, these were anything but elementary while still having a nostalgia-inducing style.
(source)
Out of all of the fabulous accessories seen walking down the runways this week, which were your favorites? We love the resurgence of the statement belt, and have plenty in our collections for those ready to hop on the trend early! 
Keep this article on hand for some great fashion inspiration for the next cold weather season, and shop our collections for some great headwear, pins, bangles, and dangling earrings of your own! For more FW coverage, be sure to stay tuned next week for our look at all things Milan!
Sources:
Monday, F. 1. (2019, February 18). Brooches, berets and all the best accessories at London Fashion Week. Retrieved from https://www.irishexaminer.com/breakingnews/lifestyle/fashionandbeauty/brooches-berets-and-all-the-best-accessories-at-london-fashion-week-905248.html
Person. (2019, February 19). The Cutest Barrettes, Hats, and Other Accessories from London Fashion Week. Retrieved from https://www.elle.com/fashion/trend-reports/g26406516/jewelry-accessories-london-fashion-week-fall-2019/
accessories, accessories and jewelry blog, accessories blogger, accessories lover, accessories trends, alexa chung, ashley williams, barret, beret, design, designer, earmuffs, fashion, fashion and culture blog, fashion and politics, fashion art, fashion blog, fashion blogger, fashion bloggers, fashion jewelry lovers, fendi, hairpin, Halpern, hat, hats, haute couture, head scarf, head wrap, headdress, house of holland, J.W. Anderson, jewelry, jewelry blogger, Karl lagerfeld, matty boven, molly goddard, ports 1961, Roksanda, ryan lo, stylish, stylish hats, talkingfashion, talkingfashion blog, talkingfashionnet, talkingfashionnet best online shop, talkingfashionnet blog, written by paige mckirahan
Comments