Milan Fashion Week F/W '19 Accessory Trend Spotlight
Milan Fashion Week F/W '19 Accessory Trend Spotlight
By Paige McKirahan
As we have now concluded our catwalk through the third week of our favorite month in fashion, Milan emphatically reinforced its stance as one of the top fashion capitals in the world with its out-of-the-box shows. Milan Fashion Week, running from February 19th to the 25th, boasted its largest season to date as 179 collections were on display in this Italian favorite, closing out the month of February. Serving as the birthplace for some of the industry's favorite family-run fashion houses (think Prada, Missoni, and Fendi), there is no doubt that this dynasty-driven capital has no problem putting the haute in couture. In the wake of Karl Lagerfeld's death, expectations were high and undoubtedly were met with collections like Moncler taking up entire street corners and Moschino's homage to Price is Right!
Moschino's Price is Right set (source)
Eclectic headwear has truly established itself as one of this season's "it" accessory as classic winter styles with a twist have been seen in collections in New York, London, and now Milan. Anteprima, United Colors of Benetton, and Fendi all presented their own variations of the Russian-style cold weather favorite complete with fur and chinstraps. Armani took a less utilitarian approach to headgear as their jewel-encrusted berets paired with their rigid silhouettes proved to be the perfect touch of femininity. Agnona's approach headwear was purely functional as their simple, beige beanies were the perfect companion to their monochromatic looks.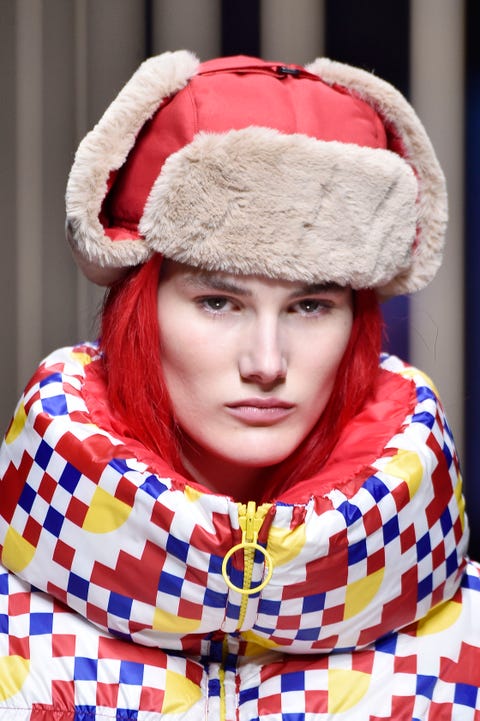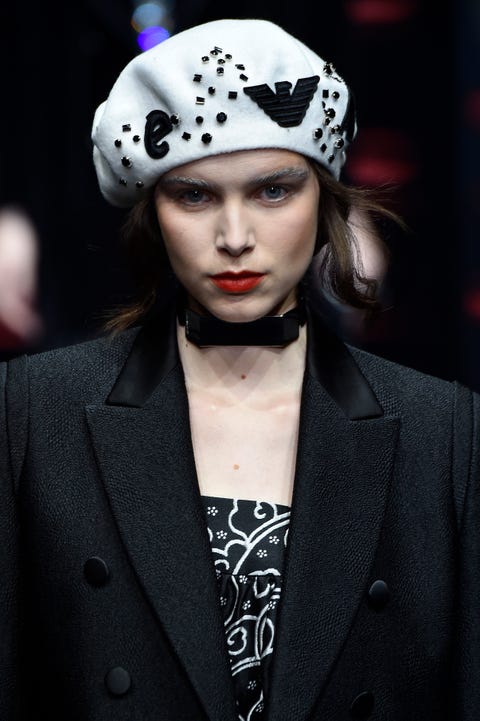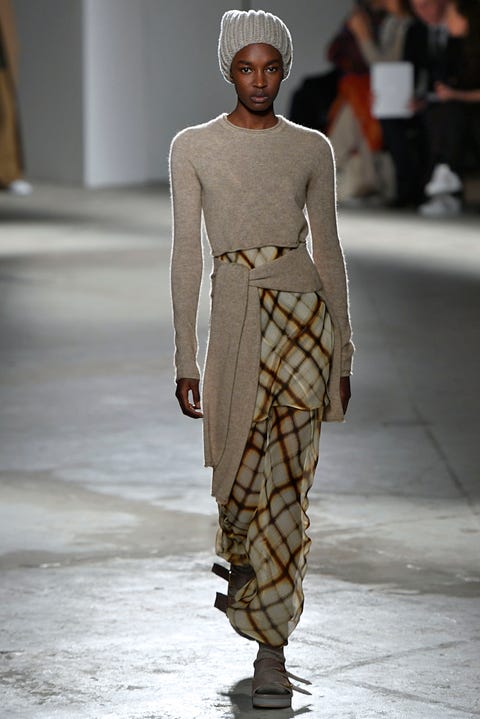 From top: United Colors of Benetton, Armani, and Agnona (source)
Moving on to eyewear, Milan boasted pieces that were far from conventional. Gucci threw their own private masquerade with a horror-themed- twist as models made their way down the runway with face and eye coverings embellished with long spikes. Looking towards a more traditional approach, Fendi, Armani, and Prada are here to prove that the age of tiny sunglasses is out and oversized frames are back in. One new variation that looks like its still here to stay? Sunglasses lenses in bright hues!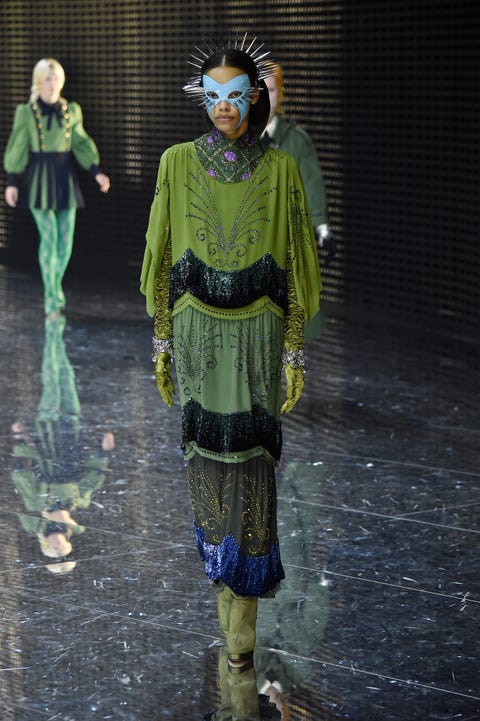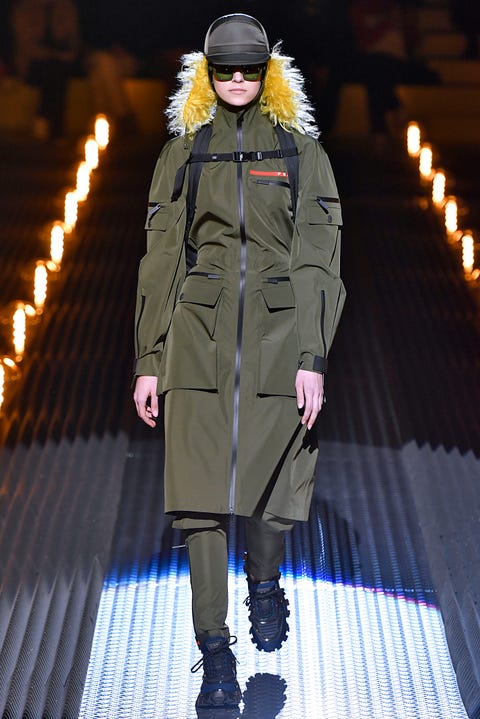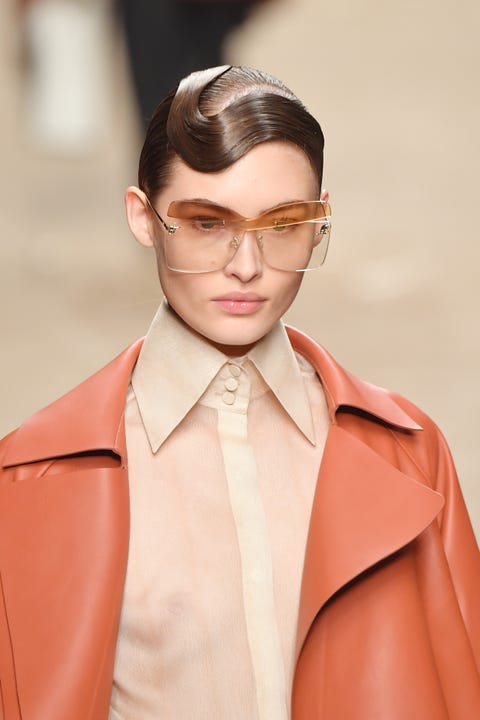 From top: Gucci, Prada, and Fendi (source)
Switching the conversation to jewelry, it is evident that gold is now reigning as the primary material for this coming cold weather season. Donatella Versace made this evident in her Milan collection, with gold belts, earrings, and necklaces designed with a mix of delicate and chunky constructions. Vivetta and Fausto Puglisi took hold of the single earring trend that was popular in the S/S '19 shows last year and showed that this style is here to stay all throughout 2019. Marni's jewels included a variety of chain-like motifs in the chokers seen throughout their collection worked beautifully when paired with their vibrant punk-meets-conference room aesthetic. Moschino stunned with jewel-encrusted costume jewelry perfect for their Price is Right set, with gold and silver settings pairing seamlessly with Jeremy Scott's over-the-top clothing designs.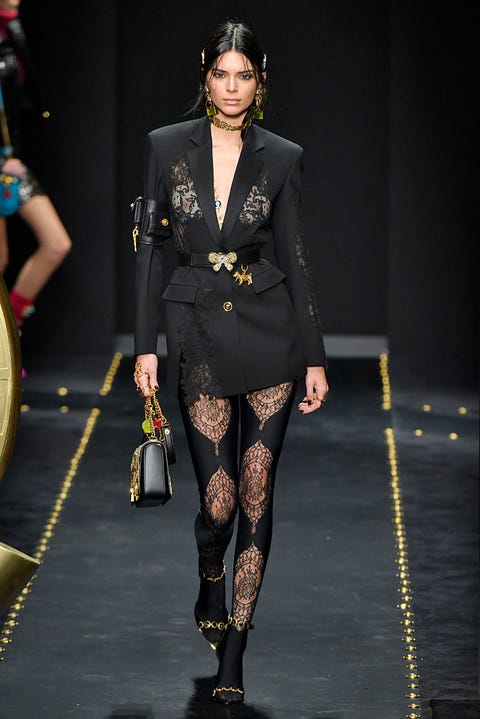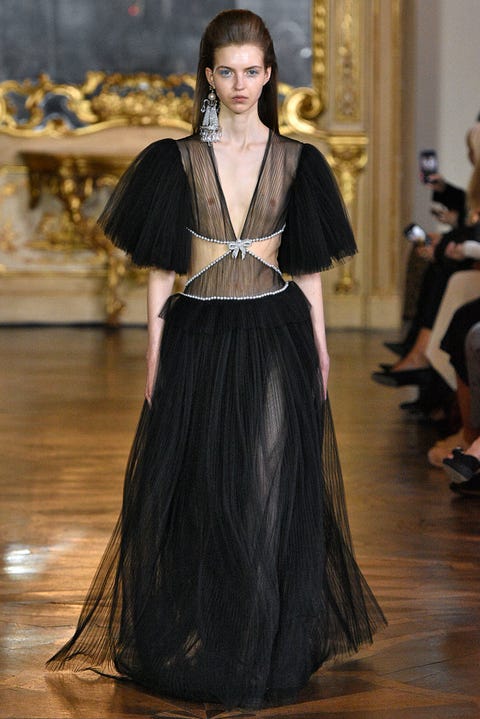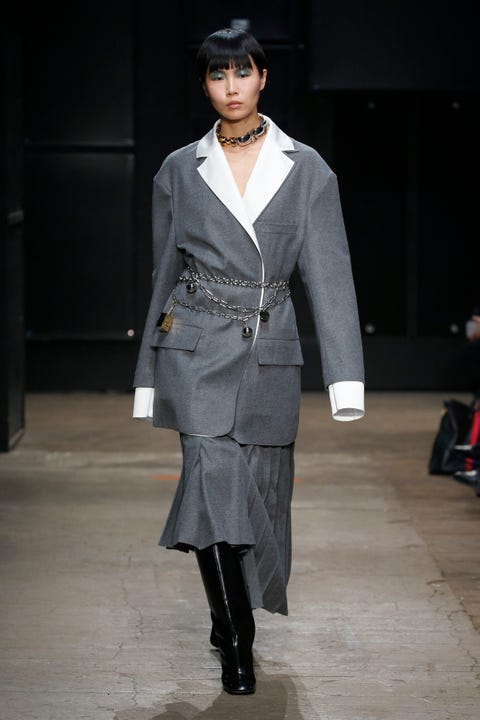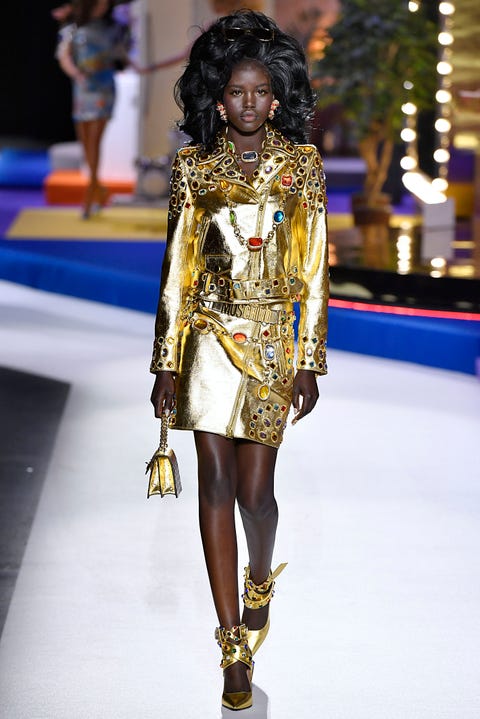 From top: Versace, Vivetta, Marni, and Moschino (source)
Looking to bags, this season the universal design theme leaned toward compact and handheld. As we saw last week in London, the idea of the "it" bag is transforming, and designers may still be trying to adapt to this accessory based shift. Nevertheless, we loved this season's affinity for miniature handbags perfect for a phone and wallet but not much else, forcing their carriers into decluttering. Check out some of our favorites below!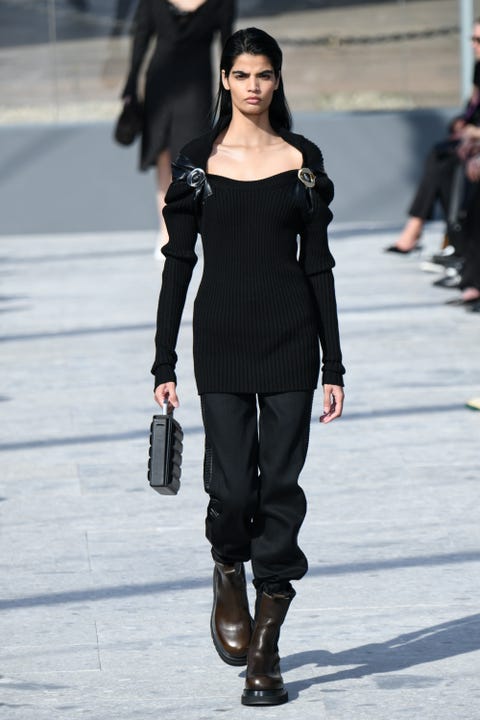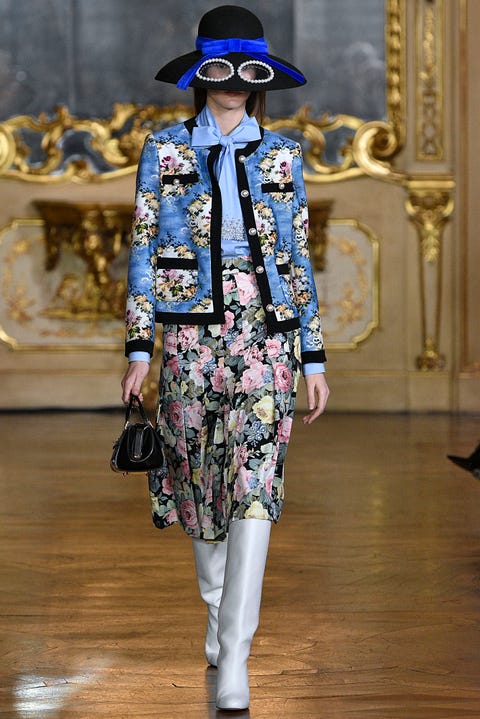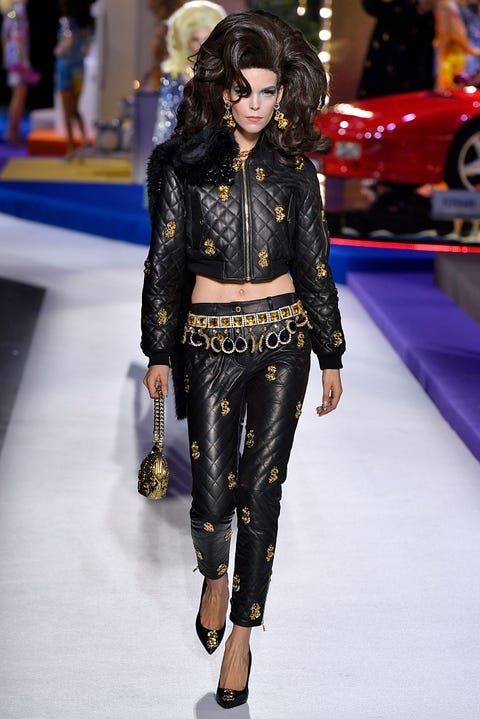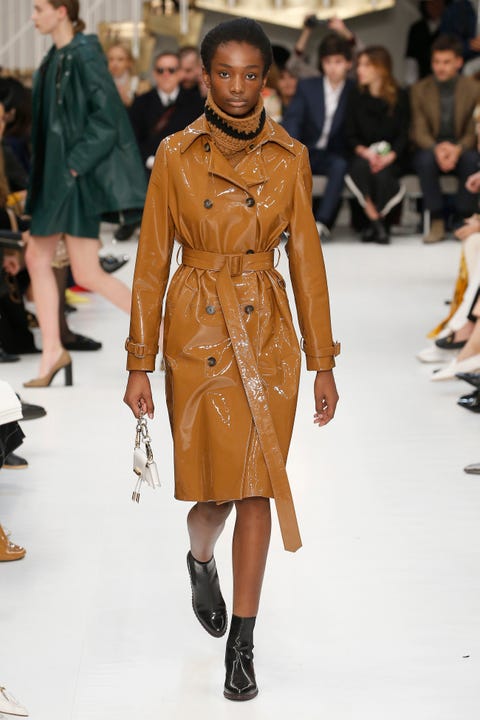 From top: Bottega Veneta, Vivetta, Moschino, and Tod's (source)
Now that this season's fashion month is almost over, have your favorite collections been in London, New York, or Milan? So far, we loved the wild look of London, but we can't choose just one as our favorite until we see what Paris has to offer!
Keep this article on hand for some great fashion inspiration for the next cold weather season, and shop our collections for some great headwear, pins, bangles, and dangling earrings of your own! For more FW coverage, be sure to stay tuned next week for our look at all things Paris!
Sources:
Person. (2019, February 27). All of the Accessories and Jewelry You're Going to Want From Milan Fashion Week. Retrieved from https://www.elle.com/fashion/trend-reports/g26432796/milan-fashion-week-fall-winter-2019-accessories-jewelry-trends/?slide=1
Carreon, Justine. (2019, February 26). The Best Looks From Milan Fashion Week Fall 2019. Retrieved from https://www.elle.com/fashion/trend-reports/g26516529/best-looks-milan-fashion-week-fall-2019/?slide=55
agnona, anteprima, armani, Bottega Veneta, contemporary, contemporary accessories, contemporary fashion, eccentric, eclectic jewelry and accessories, fashion and culture blog, fashion and history, fashion and politics, fashion art, fashion blog, fashion blogger, fashion design, fashion jewelry lovers, fendi, fur accessories, gucci, gucci runway show, hat, hats, headpieces, headwear, jewelry trends, marni, mfw, milan fashion week, Missoni, moncler, moschino, prada, talkingfashion, talkingfashion blog, talkingfashionnet, talkingfashionnet best online shop, talkingfashionnet blog, technical design, united colors of benetton, versace, vivetta, written by paige mckirahan
Comments