The Chinese Fashion Round Up
The Chinese Fashion Round Up
By Paige McKirahan
Nǐ hǎo, TalkingFashion readers! To continue our trip around the globe this month, we are making our way to China just in time for Chinese New Year! The holiday, which occurs on Tuesday, February 5th, marks the turn of the traditional Chinese calendar and celebrates the change from the Year of the Dog to the Year of the Pig. Like many of its other fashionable counterparts, China boasts bustling streets full of style fit for the pages of Vogue; being fully immersed in the Influencer era, Chinese fashion moguls are capitalizing on their country's blogging frenzy and creating digital empires across their diverse channel of thriving social media platforms. Read on to learn more about which of these bloggers are a must follow this season! 
This business woman comes from not-so-humble beginnings when she began her career as a blogger after receiving her MBA in marketing a prestigious Parisian university. Her love and knowledge of luxury brands gives her a creative, insightful edge, allowing her to integrate herself into the industry seamlessly. 
Margaret Zhang
This influencer is known best for not only wearing luxury brands, but being the creative mind behind them. Iconic labels like Louis Vuitton, Dior, and Chanel are just some of her high-profile collaborators and she is represented by IMG, solidifying her position in the industry tenfold.
 Jiaye Wu 
Jiaye Wu's time in the fashion industry has been nothing less than emblematic. From being the first Chinese model to market Calvin Klein to representing Hermes, Yohji Yamamoto, and Balmain, she has surely found her claim to fame. She strives to maintain a presence in both the high fashion and down to earth blogger worlds and does it well due to the adoration of her thousands of plans.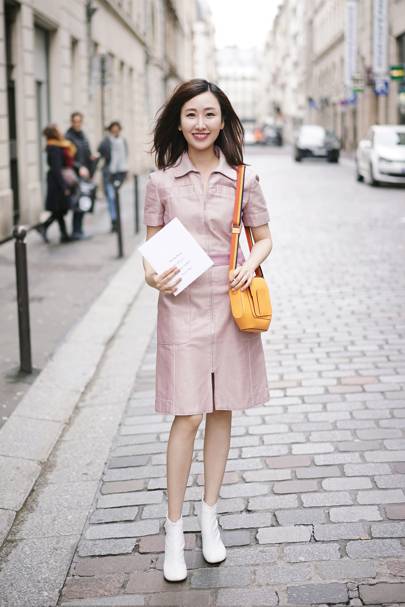 This influencer and ambassador is an expert in digital marketing; after selling 100 Mini Coopers on her WeChat last year, she topped that feat with a collaboration with Rebecca Minkoff, selling out 1,200 bags in only two days. She then launched her own fashion brand and generated over 1 million in revenue in the label's two debut drops.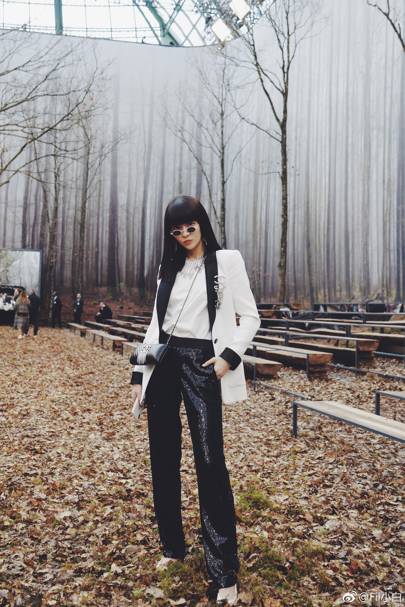 This street style aficionado is making her emblematic mark on the Chinese fashion industry; after being the only female influencer to walk in Dolce & Gabbana's A/W' 2017 show, she undoubtedly knows how to work the spotlight on and off the job. As a stylist to other high profile influences and celebrities, she has great knowledge of fashion practices and it shines through in her social media.
In addition to all of the innovative influencers on social media promoting their personal brands, there are a plethora of designers creating the pieces these bloggers are obsessing over. Read on to see five Chinese designers to watch in one of the fastest growing buyers' markets in the world.
This Shanghai-raised designer made their claim to fame from her talent gained in London's Central Saint Martin's design school. Their versatile pieces include vibrant color palettes and unusual fabric combinations that can work well on everyone from the average person to the runways highest paid models.
Yang also came into his own in the same London design school; the skills he gained from his time there made him an industry "genius", pushing him to launch his own label in 2015. His collections demonstrate his dedication to fashion, film, and fine art, showing his culture roots effortlessly in his designs.
Yushan Li and Jun Zhou are the dynamic duos behind one of Milan's most dazzling brands. Both have had enigmatic careers, working from high profile brands like Yeezy to taking their genderless label to global runways.
As streetwear designers are quickly gaining traction in the high fashion world, Feng Chen Wang's futuristic approach to outwear captures the attention of every Instagram blogger on your timeline. Her pieces drip with cool and her larger-than-life silhouettes boast reflective fabrics and prep school aesthetics fit for every fashionista.
Founded by Xialu Liu, this feminine label's inspiration ranges from English chic to fine art pleats. She loves artistic motifs found in sculpture and in Kenyan Maasai culture, keeping followers on their toes when deciding who to collaborate with next!
If last week's Australian designers and influencers provided you with some inspiration for your spring follow lists, this week's designers are sure to pique your interest with their eclectic creations and practices. Check out their collections at the links above and check out what Chinese inspired designs we have right here in our shops!
Sources:
7 Chinese International Influencers You Need to Follow. (2018, August 22). Retrieved from https://jingdaily.com/7-chinese-international-influencers/
9 Chinese Fashion Labels to Watch in 2019. (2019, January 04). Retrieved from https://radiichina.com/9-chinese-fashion-labels-to-watch-in-2019/
Yang, Q. (2018, August 31). Meet The Chinese Influencers Making Waves In The Fashion World. Retrieved from https://www.vogue.co.uk/article/chinese-influencers-to-know-now
accessories and jewelry blog, accessories blogger, accessories lover, balmain, chanel, CJ Yao, collector, Dior, eccentric, fashion, fashion and culture blog, fashion and fur, fashion and history, fashion and politics, fashion art, fashion blog, fashion blogger, fashion design, fashion history, fashion history blog, hermes, Margaret Zhang, Pronounce, talkingfashion, talkingfashion blog, talkingfashionnet, written by paige mckirahan
Comments