Designer Spotlight: Christian Dior
Designer Spotlight: Christian Dior
 By Paige McKirahan
As a household name in both the fashion world and among creatives alike, Christian Dior was the obvious choice for our designer spotlight this week. This French couturier was born on the coast of Normandy in 1905 as one of five children born to a wealthy fertilizer manufacturer. He moved to Paris at the age of 5 and used his artistic inclinations to sell his sketches on the streets for small change. Though his parents hoped that he would become a renowned diplomat, he was adamant about pursuing his art, prompting his father purchased a small art gallery for him to take over after he completed school. The gallery held a variety of artistic works by artists like Pablo Picasso and tiny but mighty gallery saw small success. Despite this,  Christian was forced to close its doors in the wake of the Great Depression in 1929, the deaths of his mother and brother, and the demise of his father's business. 
Christian Dior Art Gallery (source)
Following this event, Christian began working with fashion designer Robert Piguet and did so for around 10 years until he was chosen for military service in 1940. He served for two years and then went to work with couturier Lucien LeLong who dressed the wives of Nazi officers and French collaborators in order to preserve the industry's economic and artistic prosperity. During this time, Christian was the primary designer at LeLong's fashion house and worked alongside Pierre Balmain which, as you may have guessed, is the founder of the Balmain fashion house created in 1946.
After working with and under some of the industry's most prevalent names, Christian decided he was going to found his own fashion house; in December 1946, he founded the house of Dior in Paris and was backed by Marcel Boussac, a cotton-fabric Magnate. Many say that the house was not truly open until 1947, which is when Christian debuted his first collection. 
New Look design from first Dior Collection (source)
This first collection, containing 90 different looks, was considered the pinnacle of the "New Look" as defined by US Harper's Bazaar magazine editor Carmel Snow. His designs were not aligned with the wartime fabric restrictions and featured calf length, full skirts, cinched waists, and fuller busts. The look garnered some criticism on account of its overall opulence, but it was this lavishness that allowed Paris to re-establish itself as a head player in the fashion world. 
His was an immediate success and was overwhelmed with orders from world-famous icons like Rita Hayworth and Margot Fonteyn. The British Royal family even invited Christian to have a private showing of his collection despite the fact that King George V barred young princesses Elizabeth and Margaret from wearing his controversial New Look pieces. After he became an established name in the industry, he established his ready-to-wear house on New York' 5th Avenue in 1948 as the first of its kind. His debut perfume line launched in 1948 as well with Miss Dior being his first fragrance, which was named after his sister.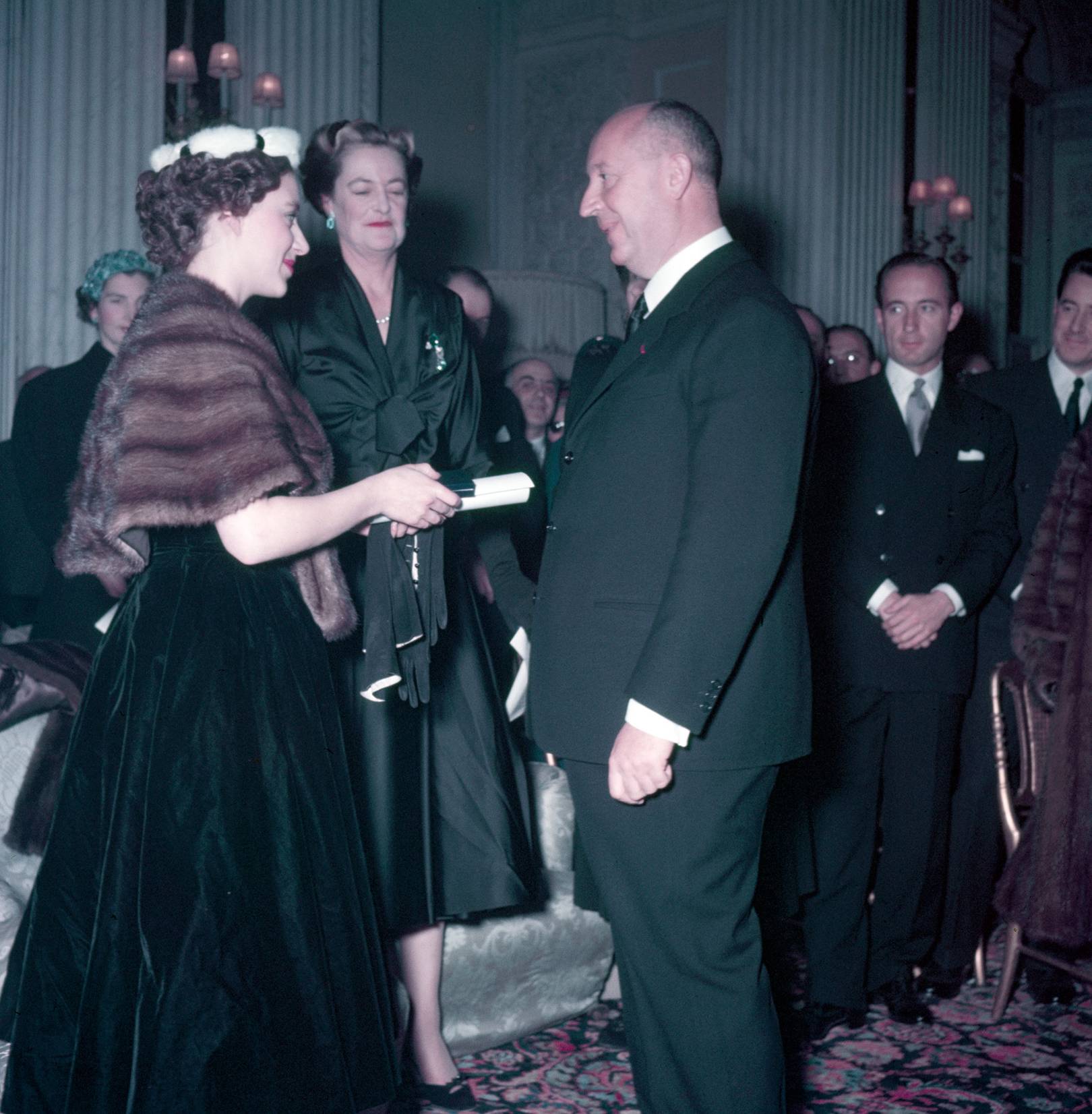 Christian meeting Princess Margaret (source)
Not to be outdone by any of his counterparts, Dior was the first haute couture brand to license the production of its designs beginning in 1949. Christian realized that his New Look pieces worked hand in hand with one another and he along with his business partner Jacques Rouet saw the importance in licensing his name to an array of luxury accessories including furs, hats, stockings, and ties. This decision was met with great criticism as it was said to "cheapened the haute couture industry". Regardless, his massive success with the endeavor inspired nearly all other couturiers to follow the same model.
In 1955, Dior hired 19-year-old Yves Saint Laurent as his design assistant and almost immediately knew that Laurent would be the one to succeed him at Dior. He told Laurent's mother this at the age of 52 and she was quite confused about the remark until he suffered from a fatal heart attack in October of 1957 shortly after his meeting with her. His funeral saw over 2,000 attendees that included his staff and multitude of famous clients with the Duchess of Windsor at their head.
In the wake of Christian's death, Rouet appointed 21-year-old Laurent as the house's artistic director in an effort to counteract the disarray caused by the event. He held the position until he was drafted and was succeed by Marc Bohan who defined a new era and silhouette for Dior that is known as the Slim Look. This modernized, sleek version of Christian's iconic look proved to be a hit in the industry and he was an artistic director until 1989. Gianfranco Ferre followed him and then was replaced by John Galliano in 1997 as he was said to have a creative talent that aligned perfectly with Christian's. Ferre and Galliano transformed the designs and Dior's ready-to-wear lines shot up in popularity. Galliano's name was plastered on headlines everywhere when fashion and philanthropic icon Princess Diana wore his first couture dress for the brand.
St. Laurent design for Dior, 1955 (source)
Galliano also was a pioneer in using branded logo motifs and he used that design to create his now iconic saddlebags that were in the hands of every it girl of the era. His brilliant work dazzles but also brought controversy, and he was eventually removed from his position after making anti-Semitic statements on film after a wild night out. Raf Simons then was appointed to the role of artistic director and was a great success from 2012 to 2016. After his departure, the decision surrounding who would succeed him was difficult but game-changing; Maria Grazia Chiuri, the former Valentino co-creative director, took over operations at Dior as the first female to hold the position. Her unapologetic approach empowers women and ensures the brands' success for years to come! We may not have any Dior in store, but we do have a great Saint Laurent piece sure to sate your designer appetite!
Sources:
Bannerman, S. L. (2018, July 19). The History of the House of Dior. Retrieved from https://theculturetrip.com/europe/france/articles/the-history-of-the-house-of-dior/
Sowray, B. (2017, August 23). Christian Dior. Retrieved from https://www.vogue.co.uk/article/christian-dior

Sample Block Quote
Praesent vestibulum congue tellus at fringilla. Curabitur vitae semper sem, eu convallis est. Cras felis nunc commodo eu convallis vitae interdum non nisl. Maecenas ac est sit amet augue pharetra convallis.
Sample Paragraph Text
Praesent vestibulum congue tellus at fringilla. Curabitur vitae semper sem, eu convallis est. Cras felis nunc commodo eu convallis vitae interdum non nisl. Maecenas ac est sit amet augue pharetra convallis nec danos dui. Cras suscipit quam et turpis eleifend vitae malesuada magna congue. Damus id ullamcorper neque. Sed vitae mi a mi pretium aliquet ac sed elitos. Pellentesque nulla eros accumsan quis justo at tincidunt lobortis deli denimes, suspendisse vestibulum lectus in lectus volutpate.